Sports & Recreation: West Indies Cricket
Cricket..Lovely Cricket!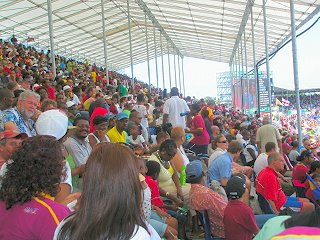 Cricket is the national sport of Barbados and the West Indies. Thousands of Barbadians, other West Indians and visitors flock to world-class matches at Kensington Oval, Barbados to watch powerful batsmen and towering fast bowlers.
Barbados is one of the international capitals of cricket and always contributes a large contingent to the West Indies team. Names like Sir Garfield Sobers, the three W's, Wes Hall, Keith Boyce, Desmond Haynes and Gordon Greenidge come to mind immediately as Barbadians who have contributed greatly to West Indies cricket.
You can catch a good game of cricket almost any time in Barbados. It could be an international Test Match or One-Day at Kensington Oval, an exciting local First Division match, or a friendly game on the beach, an open pasture or village field. Whichever it is, prepare to cheer as the batsman drives through the covers for four, or as the middle stump gets rocked back by a fast delivery! And at the end of the match join in the joyous celebrations that follow!
Barbados Cricket Accommodation
Visiting Barbados for cricket? Find the best accommodation for your taste & budget...
Cricket Matches in Barbados


Some of the old-time great Barbadian cricketers who contributed a lot to this sport were ... Herman Griffith, George Challenor, E.L.G (Teddy) Hoad, George Francis, C.D (Pappy) Spooner, Tim Tarilton, Harry Ince, E.A.V. (Foffie) Williams, Herbert K. Greaves, Lionel S. Birkett, C.L. (Lincoln) Bourne, A.M (Charlie) Taylor, Roy Marshall, Norman Marshall, Conrad Hunte, Sir Frank Worrell, Sir Everton Weekes, Sir Clyde Walcott, Dennis Atkinson, Eric Atkinson, Derek Sealy, E (Manie) Martindale, H.G.B Austin (captain of West Indies touring team to England in 1923), and John Goddard, who was Captain of the first West Indies team to beat England in England in 1950.