Sports & Recreation: West Indies Cricket
Kensington Oval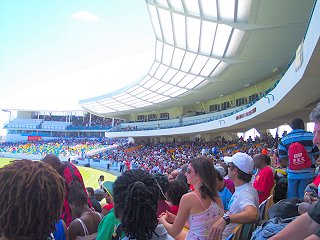 Kensington Oval recently underwent massive expansion and renovations for the World Cup. The venue was officially reopened on February 17th 2007.
It was very fitting that the ground was chosen for the World Cup final since Kensington Oval has hosted many historic matches over the years including being the first West Indian ground to host an English touring team (in 1895).
Other historic firsts include being the venue of the first match between a WI combined team and a MCC side in the Caribbean (in 1911), and the scene of the first Test century by a West Indian (Clifford Roach in 1930).
Kensington Oval was also the venue for the World Twenty20 finals in 2010.
The Pitch and Outfield
The new Kensington Oval pitch was well-received by the international cricketers who played at the ground during the World Cup. While pitches at some of the other grounds in the Caribbean were mainly flat, the Kensington Oval pitch offered a bit for the bowlers while still giving committed batsmen an opportunity to score.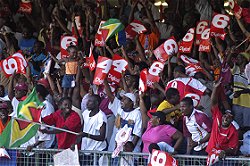 A lot of work was done on the outfield to prevent water logging that had been a problem in the past. The outfield is now in magnificent condition and the waterlogging problems overcome.
The Crowds
Like all grounds in the Caribbean, Kensington Oval has its fair share of characters, including the late King Dyal, who was known for his colourful suits, and his vigorous support of the English team!
Local calypsonian and cricket fan Mac Fingall now leads the cheering at the Oval and his small band of musicians can be seen moving from stand to stand , stirring up the crowd!
The Stands and Surroundings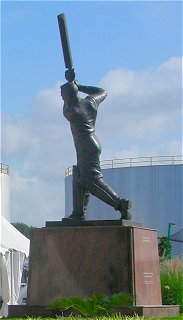 Kensington Oval is located on the outskirts of the capital city of Bridgetown. Looking to the west you will often see the cruise ships docked in the nearby harbour. Just a minute's stroll from Kensington is the wonderful Legends of Barbados Cricket Museum which is well worth a visit.
Stands at the Ground are named after The 3 W's (Worrell, Walcott and Weekes), Wes Hall and Charlie Griffth, Desmond Haynes and Gordon Greenidge, and Sir Gary Sobers, among others.
As you enter Kensington Oval, you will see a statue of Sir Garfield Sobers, one of the finest cricketers of all time. Sir Gary, as he is called locally, is recognized as one of the National Heroes of Barbados.
An outstanding all-rounder, Sir Gary was also an excellent fielder. He represented the West Indies from 1953 until his retirement in 1974.
In 2000, Sir Gary was named as one of the five Wisden Cricketers of the Century.
Attractions and points near Kensington Oval
Other Barbados attractions and points of interest within 0.5 miles of Kensington Oval

- accommodation and activities with rates, photos and direct online quotes and bookings.