Sports & Recreation: World Cup Cricket 2007
World Cup Cricket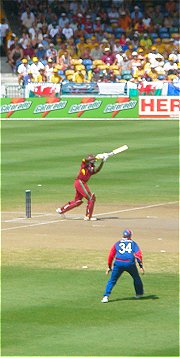 Barbados proudly hosted the final and several Super 8 matches of the 2007 World Cup of Cricket at the re-designed Kensington Oval. In addition, several warm-up matches were held at the 3Ws Oval
The final of the 2010 World Twenty20 was also held in Barbados at Kensington Oval.
The new Kensington pitch proved to be ideal as it offered some assistance for the bowlers while also giving batsmen an opportunity to score big runs. In the final Adam Gilchrist showed just how to do so with an amazing batting display that saw him score 149 off just 104 balls in Australia's win over Sri Lanka.
Barbados was also the the location for one of the best matches of the tournament - West Indies vs England in the final Super 8 match. England won this thrilling encounter by just one wicket with one ball to spare. The match was also the final appearance at the top level by West Indies captain Brian Lara and he was warmly cheered by West Indians, English fans and neutrals alike.