West Indies Cricket
Cricket..Lovely Cricket!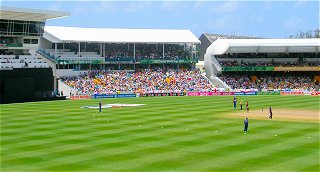 For many years the West Indies team ruled the cricket world, playing undefeated in a Test series for over 15 years. Recently the West Indies team has suffered several losses but with the emergence of new high-calibre players the future for the West Indies cricket team looks very good!
West Indians are passionate about their cricket, quick to cheer when the team performs well but also quick to criticize a poor performance. Thousands of West Indians always turn out to watch their team play .... and hopefully win!
Cricket is seen as a unifying force in the West Indies, bringing together players (and supporters) from across the region. This gentleman's game has brought considerable exposure to the islands of the Caribbean, with the West Indian cricketers being remembered not only for their incredible talent and skills but also for their deportment and sense of fair play.
Barbados Cricket Accommodation
Visiting Barbados for cricket? Find the best accommodation for your taste & budget...