Surfer's Point
Located on the south east coast of Barbados this beach is, as the name implies, a favourite spot for surfing. However it's not just board surfing that's popular here.... Surfer's Point also has perfect conditions for windsurfing, kitesurfing, boogie boarding and kayaking.


The less adventurous can sit on the benches or on the beach and watch the thrill-seekers catch the waves and wind, while newbies quickly learn under the friendly and careful tuition of local teachers.
This is also a great place to stop for a picnic while out touring Barbados. You can even spot some sea turtles in the area!
Surf lessons and rentals are available right at Surfer's Point, however there are also many other Barbados surf spots you'll wish to explore!

Map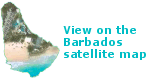 Recommended Barbados Beach Activities