Chancery Lane Swamp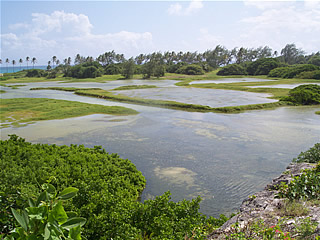 This protected area is home to migrant shorebirds and there is usually a presence of heron and egrets. Many North American birds rest here during their migration to South America.
The swamp, which is comprised of shallow open water, mudflats and grassy areas, is also a nesting area for the Pelican, Blue Heron and Frigate birds.
Chancery Lane is a seasonal wetland, so be sure to visit during the wet season as the area can dry up significantly at other times of the year.
The beach at Chancery Lane is an important nesting site for sea turtles.
The Chancery Lane area is also one of the most significant archeological sites on the island. Artefacts uncovered at Chancery Lane and the nearby Silver Sands area have revealed much about the life of early Amerindian settlers on the island.
See also: Graeme Hall Nature Sanctuary