Freyers Well Bay
Located on the north-west coast of Barbados, Freyers Well Bay is a small, secluded beach suitable for swimming, sea bathing, snorkeling and sunbathing. In fact it is one of the best beaches in St. Lucy as the waves become more lively heading north.
The beach is rarely crowded, as it is in a somewhat remote location.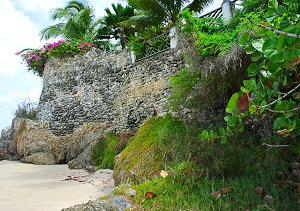 If you're staying in the north of the island, this beach will quickly become one of your favourites.
On the cliff overlooking the bay is the lovely Freyers Well Bay House, which is available for vacation rentals.

Tropical flowers and shrubs surrounding the bay add to the beauty of the area.
If you visit Freyers Well Bay while out touring Barbados, we recommend combining with visits to Maycocks Bay and Harrison Point lighthouse.
Recommended Barbados Beach Activities