Mullins Beach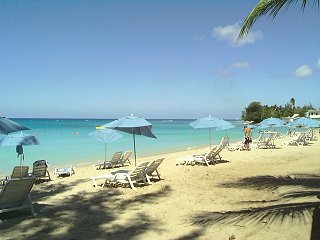 Mullins beach, located in the parish of St.Peter, is one of the most popular beaches on the west coast.
This is the place to relax in a lounge chair under the umbrellas and shade of the Casuarina or palm trees, take a dip in the safely roped off areas, or venture out further on a jetski!
The beach bar is a great spot to grab a drink, snack or lunch during the day, or to drop by later on for a romantic sunset dinner or nightcap.
If you are renting a car during your vacation, Mullins has a spacious newly built car park conveniently located just across the road.
Attractions and points On The West Coast
Other Barbados attractions and points of interest within 1 mile of Mullins Beach

- accommodation and activities with rates, photos and direct online quotes and bookings.


Recommended Barbados Beach Activities