About Rockley
A bustling area on the lively south coast of Barbados, Rockley is a hub of activity with many restaurants and shops. It is also home to one of the best beaches on the island - Accra Beach. You can hop aboard the boardwalk at Accra for a lovely stroll or jog. Public transport runs right through Rockley so getting to the area is very easy. Rockley is nestled between St.Lawrence Gap to the east and Hastings to the west.
🍽 Where To Eat
Bert's Bar - Catch all the action or cheer on your favorite team at the sports bar. You can also enjoy tasty selections at the restaurant or relax by the pool.
Bubbas Sports Bar & Restaurant - Enjoy live sports action on 10ft screens and additional TVs! Bubbas also offers an extensive a la carte menu and appetizers. All this in air-conditioned comfort!
Champers restaurant - Set on a cliff-top overlooking the beach, Champers has a solid reputation for consistently good food and value for money.
Chefette Rockley - Enjoy burgers, fries (chips), rotis, chicken, pizza and more at this fast food restaurant.
Italia Coffee House (Quayside) - Warm, friendly service awaits at Italia Coffee House. Enjoy wonderful coffee and freshly baked goods at their locations across the island.
Just Grilling - Rockley - Casual open air restaurant serving a variety of grilled meats (fish, chicken, shrimp, steak, burgers) and sides (ceasar salad, grilled potatoes, grilled vegetables, coleslaw, rice, etc).
Pacifika Kitchen - Enjoy Japanese, Chinese, Thai and Indonesian dishes.
Swagg restaurant - Enjoy alfresco or air-conditioned dining at this trendy restaurant & bar which serves local, Caribbean and international dishes with a unique twist.
Terasu Kafe - This bistro style serves up hearty breakfast dishes and tasty lunches.
The Courtyard restaurant - Enjoy creole and local cuisine at this poolside restaurant located at Blue Horizon hotel.
The Tiki Bar - Enjoy cocktails and oceanfront dining at this beach bar. Rent a beach chair & enjoy WiFi access right on the beach!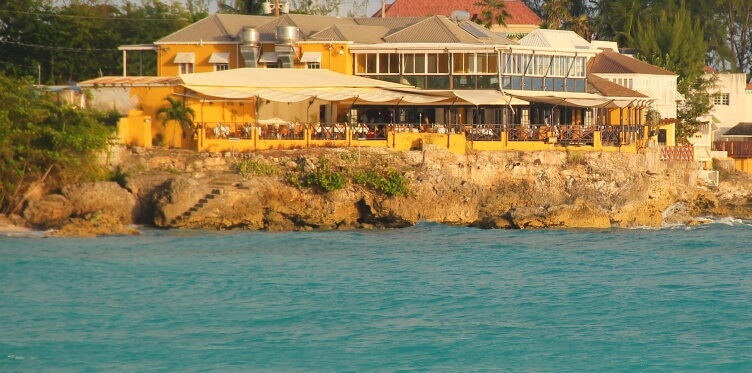 🛌 Where To Stay
#10 Springcourt - Fully furnished vacation studio apt, located close to beaches, the boardwalk, restaurants and shops. Read more...
213 Golden Grove Vacation Condo - Relaxing, well-equipped Barbados vacation condo with excellent onsite facilities. Read more...
Accra Beach Hotel and Spa - This elegant Hotel sits on one of the island's most spectacular beaches - a sun-kissed stretch of soft, white sand that is home to the gentle waves of the Caribbean sea. Read more...
Adulo Apartments - Great value for charming, comfortable, affordable and tranquil accommodation on the Barbados south coast. Read more...
Blue Horizon Hotel - Located next to the best beaches, shopping, restaurants, business and family entertainment in Barbados. Read more...
Magic Isle Beach Apartments - Attractively priced accommodation located directly on Rockley Beach. Facilities include an outdoor swimming pool, spacious lawns and lovely tropical gardens.
Plum Tree Club - Comfortable vacation apartments with lots of onsite facilities. Away from the bustle. Free shuttle to the nearby beach. Read more...
South Beach Resort & Vacation Club - An all-suite boutique resort where all guests enjoy the personalised service that only a small hotel can offer. Read more...
Southern Surf Beach Apartments - Southern Surf Beach Apartments is popular for its ideal location and affordable rates.
Springcourt Vacation Rental - 2-bedroom vacation rental in a quiet neighborhood just a short stroll from beaches & restaurants. Read more...
---