Harrison's Cave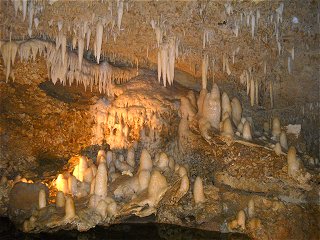 One of the Barbados Tourism Encyclopedia's "Seven Wonders of Barbados" is this spectacular cave which is one of our island's most famous attractions.
A unique phenomenon of nature, Harrison's Cave is an amazing gallery of stalactites hanging from the roof of the cave, and stalagmites that emerge from the ground, with streams of crystal-clear running water that drop from breathtaking waterfalls to form deep emerald pools. The stalactites and stalagmites were formed over thousands of years and in some places the stalactites have reached down to the stalagmites and a spectacular pillar has been formed.
The tram tour is the most popular, with visitors driven in electrically operated trams down through the extensive system of caves. Excellent tour guides give historical information on this cave along the way. At the lowest level point in the cave, visitors are invited to leave the tram and walk alongside a spectaular waterfall which plunges into a deep pool below .... this is truly an awesome wonder! Walking tours and a special Eco tour for the adventurous are also available.
The attractive Visitor's Centre, which was designed to fit in with the natural limestone bedrock, provides a refreshment area and handicraft shops, along with an exhibit of Amerindian artifacts that have been excavated from various sites around the island.
Tours To Harrison's Cave
Harrison's Cave is open every day of the week. The first tour starts at 9:00 am and the last tour is at 4:00 pm.

Most local tour companies offer tours that include a stop at Harrison's Cave, one of the most popular attractions in Barbados. Touring with a guide gives you the advantage of hotel pick-up and the abilitity to combine Harrison's Cave with other top Barbados attractions.
Getting Married In The Cave

History of Harrison's Cave
Although historical references were made to Harrison's Cave from as early as the eighteenth century, no serious exploration of the cave was done until 1970, when speleologist, Ole Sorensen, was commissioned by the Barbados National Trust to make a survey and map the cave. Sorensen immediately recognised the potential of the cave and recommended that it be landscaped and developed. Four years later, work on the cave began, drawing on scientific, artistic, technological and geological resources. The work involved digging tunnels, improving lighting and diverting of underground streams.
Other Barbados attractions and points of interest within 2 miles of Harrison's Cave

- accommodation and activities with rates, photos and direct online quotes and bookings.


Coral Caves and Underground Lakes of Barbados
Barbados is a fabric of soils and flora, on top of sandstone rock and coral pushed out of the sea by ancient volcanic action. The land is hilly and rocky with a vast underground system of rivers, caves and lakes that supply clear, delicious drinking water.
The coral rocks that contain the underground water systems, are covered with a thin film of top soil measuring less than a foot on average and hardly more than a few feet at the deepest point. It is a delicate and critical balance that has supported the great sugar plantations of the past and continues to sustain a diversifying base of agricultural production.