Caribbean Surf and Longboard Vacations
Barbados... A Great Surfing Travel Destination!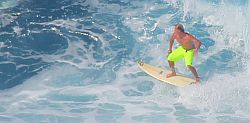 Surf's up Dude! Got a passion for the longboard? Looking for a great Caribbean surfing vacation? Barbados is located in the Atlantic (to the east of the Caribbean Sea, and the Eastern Caribbean island chain), and is the place where the waves break after traveling across the ocean.
The east coast is the best for surfing trips, and the area known as the Soup Bowl is by far the most popular spot! It's a longboarder's paradise! The Soup Bowl has hosted many international longboard competitions. The peaceful and naturally beautiful East Coast is a lovely spot for a totally cool holiday!
You can also try a Caribbean surfing vacation on the south or west coast of Barbados. There you will find moderate waves, which are also good for boogie boarders!
Several local hotels and guesthouses are the ideal place to spend a surfing vacation, often located just a few seconds from the surf!!
Suitable Barbados accommodation for a Caribbean surfing vacation