Barbados Family Vacation Packages and Resorts
Barbados... An Ideal Family Destination!
Enjoy family holidays in Barbados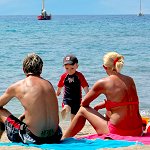 Barbados, in the Caribbean, offers a wide range of vacation activities, resorts and packages, making the island a great location for a family vacation. Children and parents can enjoy the wonderful beaches and watersports activities, or for a fun and educational experience visit the Wildlife Reserve or Harrison's Cave!
We have family vacation packages to suit every taste. The whole family will enjoy the thrill of a submarine trip, or maybe ziplining through the trees! A safari trip is also a wonderful way to enjoy the natural beauty of Barbados. And after a day of Caribbean adventure you can always return to the peace and relaxation of your resort!
Several family-friendly resorts offer reduced rates for children, and many also include special childrens activities, so that Mum and Dad can have some time to themselves to enjoy the marvelous Caribbean, knowing the children are safe and having fun. Babysitting services can also be arranged at several resorts.
Resorts suitable for Caribbean Family Vacations