Caribbean Musical Tours and Jazz Vacations in Barbados
Cool jazz on warm shores...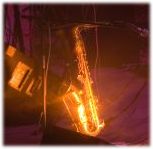 The Caribbean island of Barbados offers a wealth of musical tours and events, and is a fantastic destination for Jazz fans. Concerts and dinners with live jazz entertainment take place throughout the year across the island in venues ranging from concert halls to countryside restaurants.
Several hotels offer special 'Jazz nights' with live performances from the island's best talent! So come and experience Jazz in Barbados, it's an musical experience to remember!
Barbados accommodation for jazz holidays