Caribbean Group Holidays in Barbados
Travel with a group to a tropical paradise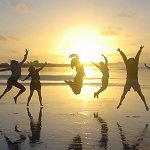 Barbados is a wonderful Caribbean group vacation destination, offering great travel and hotel rates. It's just perfect for a wide range of travel groups, like sports teams, families and businesses.
Sports Groups: The Caribbean island nation of Barbados boasts good weather year-round and excellent sports facilities. If your sports team needs a place to train during the winter/off-season or you wish to organize a sports tour in a unique destination, Barbados would probably be the ideal location. Several properties specialize in hosting sports groups, and many tour companies have extensive experience in organizing sports tours. And we've got great hotel rates for almost any budget! (See Group Facilities & Services for more information...)
Families: Where better for a family vacation or reunion that the lovely Caribbean island of Barbados? Get the family together in a local resort, then just relax and enjoy each others company.
Businesses: Barbados is also the ideal location for corporate meetings and conferences, from trade shows and conventions to smaller workshops and group meetings. Hotels and conference centres can provide the equipment required while destination management specialists handle travel arrangements and provide support services. (See Group Facilities & Services for more information...)
Best Accommodation for Barbados Group Holidays