Caribbean Beach Living Villa and Vacation Rentals
Barbados.. Tide pools & inshore reefs
Beach living amongst the tide pools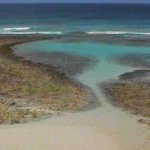 The South-West cost, particularly the Hastings area, from Accra Hotel to the Hilton, in an area with many reefs, creating excellent conditions for diving and snorkeling. As the tides move out, the inshore reef and its natural hollows form small pools where water is trapped. In them and along the exposed reef there are many sea creatures, hiding under rocks or swimming in the pools.

Several 4 star hotels including the Hilton are on this long stretch of beach. In the 4 star category; Amaryllis and Savannah sit side by side between Coconut Court and the Hilton. South of these are private properties some of which are rented out at very inexpensive rates. These vacation rentals are right on the beach on ground floor and second floor locations. The Beach is at your door step so to speak. Living in a private rental has several advantages, not the least is that you might get to know some colourful locals who can add much to your vacations.

Beach living options include: beach cottages and Villa hotels, luxury beach front hotels with full hotel service, rugged east coast living with stunning seascapes, board surfing, waves, rocks and sand. Caribbean tide pools and inshore reefs, are great for foraging and popular with families. For exercise and soulful contemplation, nothing beats a walk along a beach with miles of endless sand.
Suitable Barbados accommodation for pool and reef beach living