Bay Street Esplanade, Barbados
The Bay Street Esplanade is located along Barbados' west coast, just south of the capital city of Bridgetown.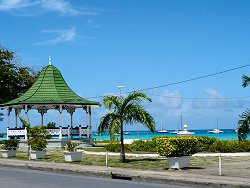 The esplanade offers amazing views of the west coast with Bridgetown and the cruise ship harbour to the north and Needham's Point to the south.
The esplanade runs alongside Brownes Beach, one of the most popular beaches on the island. Many Barbadians visit the beach regularly to swim, walk or play beach sports such as beach cricket, football and volleyball.
The beach is so lovely that some couples choose to get married here!
The Bay Street Esplanade also overlooks Carlisle Bay which is home to many shipwrecks and is a favourite spot for scuba divers!
The band stand at the southern end was constructed between 1918 and 1919. It is now mainly used for concerts and other cultural presentations.
On the opposite side of the road are the Government buildings including the Prime Minister's Office. Here you will find the statue of Sir Grantley Adams, one of the National Heroes of Barbados.
You may park in the parking lot to the north or in the smaller parking lot to the south of the esplanade.