Statue of Sir Grantley Adams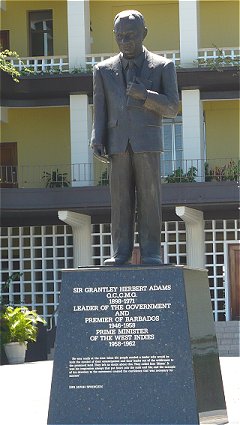 This statue, in honour and memory of Sir Grantley Adams, stands at the entrance to Government Headquarters on Bay Street on the outskirts of the capital city of Bridgetown.
One of Barbados' ten national heroes Sir Grantley was a great social reformer who fought tirelessly for the rights of Barbadians, especially the under-privileged. He was a highly respected lawyer who used the political arena as the vehicle to achieve his goals. Always working closely with local trade unionists, he introduced legislation to improve the wages and working conditions for labourers in Barbados.
Sir Grantley Adams was the first Premier of Barbados and served as the first and only Prime Minister of the West Indies Federation.
Several other honours to Sir Grantley can be seen in:
the islands' $100 note which bears his likeness,
the Grantley Adams school and
Sir Grantley died at the age of 73 on November 28, 1971. Tyrol Cot, the home which he shared with his wife, is now open to the public.
Notably his son J.M.G.M. "Tom" Adams went on to become the second Prime Minister of Barbados.
The statue of Sir Grantley Adams overlooks the Bay Street Esplanade.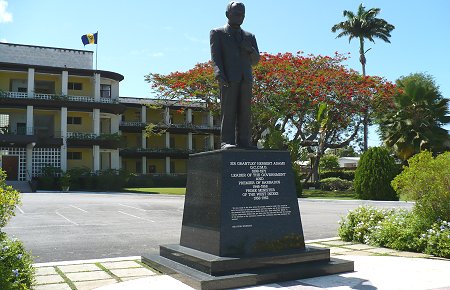 Attractions and points nearby
Other Barbados attractions and points of interest within 0.5 miles of Statue of Sir Grantley Adams

- accommodation and activities with rates, photos and direct online quotes and bookings.