St.Lawrence Bay
The bay, also known as 'Little Bay', is located at the at the entrance to the popular St.Lawrence Gap, on the south coast of the island.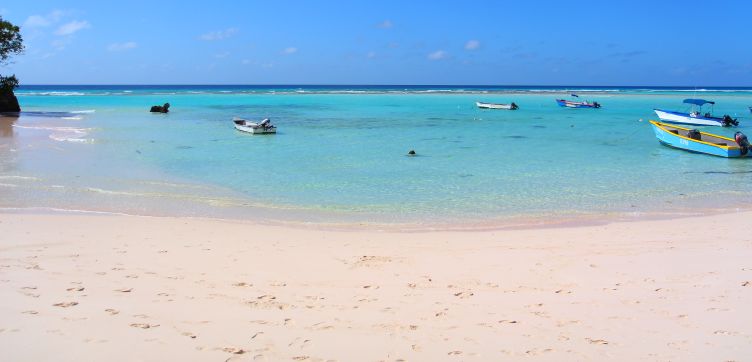 The sea is exceptionally shallow at low tide and you can walk out a long way while the water barely reaches your knees! The reef which borders and protects the bay is an interesting place to snorkel, with unique rock formations and schools of tropical fish. In fact, the area is popular for a number of watersports and you can often spot windsurfers, kayakers, and even the occassional kitesurfer!
Tutles also love this bay and you'll frequently see them surfacing for air or swimming alongside the waterfront restaurant hoping for a few treats!
The bay is bordered by a number of fine restaurants from which patrons can enjoy this glorious view, which is particularly romantic at night.
Attractions and points near St. Lawrence Bay Beach
Other Barbados attractions and points of interest within 0.25 miles of St. Lawrence Bay

- accommodation and activities with rates, photos and direct online quotes and bookings.



Castaways Bar & Grill [

map

] [

website

]

Chateau Blanc Apartments On Sea [

map

] [

website

]

Graeme Hall Nature Sanctuary [

map

] [

website

]

Harlequin Restaurant [

map

]

Mistle Cove Apartments [

map

]

Primo Bar & Bistro (formerly Pisces Restaurant) [

map

]

Rostrevor Hotel [

map

] [

website

]

Sanctuary Cafe [

map

]

South Gap Hotel [

map

] [

website

]

St. Lawrence Boardwalk [

map

] [

website

]

St. Lawrence Church [

map

]

Sweet Potatoes restaurant [

map

]

The Cove nightclub [

map

]

Yellow Bird Hotel [

map

] [

website

]