Barbados Natural Heritage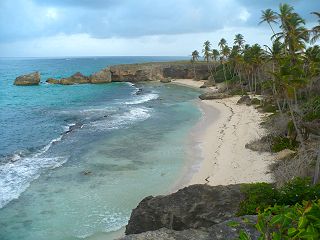 Barbados is a coastal community of beaches, coral reefs and coral rocks, tidepools, cliffs, underground lakes and caves, along the shores of calm or rugged seas. Unlike the mountainous neighbouring Caribbean islands, Barbados is relatively flat with few rivers.
The physiography, history and architecture of Barbados is unique. It is home to many indigenous and migratory species of wildlife, birds and mammals, including the endangered green turtles which can still be seen laying their eggs along the shore.
You can discover this land by joining walking tours, renting a bicycle, by submarine or by going horseback riding, driving or sailing.
Barbados 'Local Charm' Vacations: Click here for the best 'local charm' resorts, places of historical interest in Barbados, and Heritage Vacation Packages.
Visit George Washington House where the future American President stayed in 1751. In fact Barbados was the only country he ever visited outside colonial America!