Barbados Horse Riding & Riding Tours
Explore Barbados On Horseback!
Local riding centres offer a variety of trail rides and exciting scenic rides along the beach for those with any level of experience.

Most Barbados horse riding centers keep their groups small, so you don't feel overcrowded and you can have lots of individual attention if you need it.
Beaches And Trails
The east coast of Barbados is ideal for horse riding, with scenic views, miles of coastline and cooling tradewind breezes.
The west coast offers more tranquil, but equally beautiful beaches. These beaches are very close to the cruise terminal so this is a good choice if you're visiting the island for the day as part of a Caribbean cruise.
A horse ride through the Barbados countryside shows off the lush tropical beauty of the island and takes you to spots not seen on the usual island tours & safari!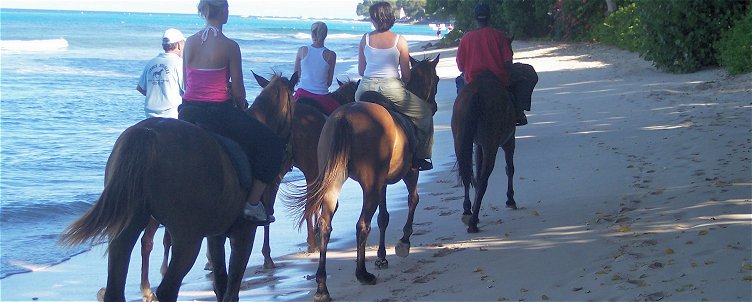 Other Services
In addition to horse riding guides, other services such as show jumping, dressage, riding therapy for the disabled, and private riding lessons are available in Barbados.
Barbados Riding Tips
Let the guides know of your riding ability & experience
Wear loose, comfortable clothing; preferably long pants
Wear good shoes; preferably sneakers; no slippers
Use sunblock and bring along your sunglasses
Bring your camera