Barbados Wildlife
Wildlife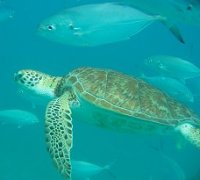 Apart from the green monkey, other animals found in Barbados include the mongoose, eight species of bat, the rarely seen European hare, red-footed tortoise, various species of lizards, whistling frogs and toads.
While there are very few snakes in Barbados, the island is home to the smallest known snake species.
Barbados is also a haven for many turtles, including the Leatherback and Hawksbill turtles. In certain areas turtles have become accustomed to humans and are relatively tame and you can swim with them as they feed amongst the coral. The Barbados Sea Turtle Project monitors nesting and hatching activity during the turtle season.
Meet the various reptile and amphibian species that call Barbados home.
Birds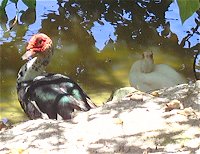 Barbados boasts of over a hundred different bird species, mainly migrant and transient species (including ducks, falcons, sandpipers, warblers and terns). Only about 20 bird species are actually resident in Barbados (including doves, pigeons, herons, egrets, hummingbirds and finches).
Many of the birds seen in Barbados are water birds and can be seen in the marine/wetland areas of the island, such as the Graeme Hall Swamp.
Butterflies
Across Barbados you'll spot magnificent butterflies fluttering between the tropical flowers. Our national flower - the Pride of Barbados - is a particular favourite.
Animal and Eco Activities