Tropical Garden, Barbados (formerly Orchid World)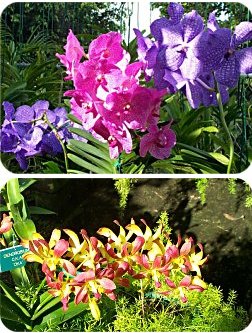 Tropical Garden is located on six acres surrounded by sugarcane in the heart of the Barbados' countryside. With an elevation of 810ft, a number of vantage points allow you to take in the view. The location is ideal for growing and displaying tropical plants.
The well-landscaped, meandering path leads you on a self guided tour past a waterfall, through a coral grotto and eventually through five orchid houses. Keep your eyes on the trees for orchids such as Schomburgkia that bloom once a year with spectacular results. The orchid evokes exotic mysticism and is truly one of nature's wonders. Each turn of a corner offers a new and different view or floral delight.
Vandas, Phalaenopsis, Calanthes, Cattlyeas, Ascocendas and Dendrobiums, just to name a few, can be found throughout. Vandas and Ascocendas, 'rain forest' orchids, are displayed in an environment meant to be a simulation of the condition in which they would grow in the rain forest. This simulation is an eye-catching display, as they seem to hang in mid-air with the orchids' roots completely free of soil.
The accompanying sound of burbling water not only adds moisture to the air but also adds a feeling of tranquility to the already peaceful atmosphere. The only other sound you may hear is the wind rustling through the nearby sugar cane or the twitter of the birds. The lingering scent of an orchid is just as likely to enchant as the colours and shapes of the flowers.
Benches are strategically located throughout. Wheelchair facilities and access are provided, but please appreciate that the paths can be uneven and progress may be very difficult in some areas. Umbrellas are also available.