Key Facts About Barbados
Key Facts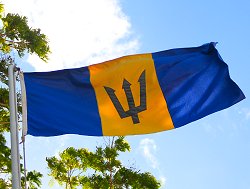 The United Nations Human Development Index (2011) ranked Barbados in the highest bracket "Very High Human Development", well above the regional average for the Caribbean and Latin America.
Visitors highlight the friendliness of Barbadians as the island's greatest and most pleasing asset. This is reflected in the highest repeat visitor factor in the region of 39%.
The people of Barbados have a history of long ingrained Christian principles, a sound and free educational system with a literacy rate of 97%.
Barbados has the third oldest parliament in the world, with uninterrupted parliamentary governance since 1639.
Barbados was the only vacation destination in this Hemisphere with a scheduled Concorde service. One of the retired British Airways concordes now resides at our international airport.
The name 'Barbados' is derived from the Bearded Fig Trees once found in abundance on the island.
Barbados is completely surrounded by the Atlantic Ocean (see where is Barbados).
Barbados is 21 miles long and a smile (14 miles) wide!
We are the only coral island in the region with all white sand beaches.
Barbados has pure drinking water and was the first Caribbean island to have piped water.
The island has excellent telecommunications systems.
Barbados' cultural diversity helps make the island so distinctively charming.
Utilities are available 100% island-wide.
Barbados is easily accessible from everywhere.
The maximum daily temperature is 75-90 °F year round. The island is consistently cooled by North-East tradewinds.
Best Barbados Hotel Deals
Doesn't Barbados sound like an interesting place to visit? We'll help you find your perfect accommodation on the island...
Fast Facts and Figures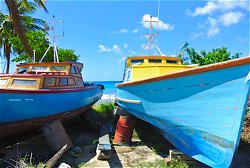 Capital: Bridgetown
Population: Approximately 285,000
Climate: Eight to nine hours of sunshine most days.
Geography: A 21 mile x 14 mile Caribbean island. West and South Coast have calm Caribbean sea and endless beaches. Rugged cliffs and Atlantic Ocean on the East Coast.
Barbados Language: English with a broad dialect. See a Street Vendor Talks
Currency: Barbados Dollar - US $1 = BDS $2 approx.
Driving: A temporary yearly Barbados licence costs BDS$10 and is obtainable from car rental agencies and Police Stations. Full licence must be shown. Drive on left. Go to Barbados Tourism Encyclopedia "Documents"
Time: GMT-4 hrs. There is no daylight saving time in Barbados
Accommodation: Caters for all tastes and budgets from luxury hotels and all-inclusive resorts to rooms in small hotels and self-catering apartments.
Sports: Snorkeling, diving, fishing, sailing, waterskiing, tennis, golf and lots more.
Getting There: (Flying Times and Airlines)
Electricity: Electricity in Barbados is 110 volts/50 cycles
Entry Requirements: See Travel Documents
Health Requirements: See Health in Barbados
Weddings: It is possible for ceremonies to take place on day of arrival, providing documents are in order.
Laws: Largely based on English common law.