Barbados Dive Sites
Barbados Reefs
SS Stavronikita - a 365ft Greek freighter that was deliberately sunk to form an artificial reef, this wreck is now home to numerous fish and corals. The Stavronikita lies in 120ft of water with the stern at 100ft and the bow at 70ft.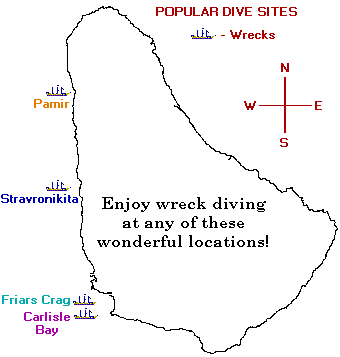 Friars Crag - a 100ft Dutch freighter that was sunk in 1984 and lying in 55ft of water. A magnificent reef is located nearby ... enjoy wreck and reef diving in one incredible experience!
Carlisle Bay - This historic bay is the site of numerous wrecks and is therefore an ideal dive location. There are four wrecks which are of particular interest - the Berwyn, Eilon, C-Trek and Fox. At this incredible dive site divers can look for tropical fish, eels, frog fish, seahorses and more! This dive is ideally suited for beginners.
Pamir - this wreck, located to the north of the island is 165ft long and 60 ft deep and offers a relaxing dive - perfect for beginners!
Barbados Reefs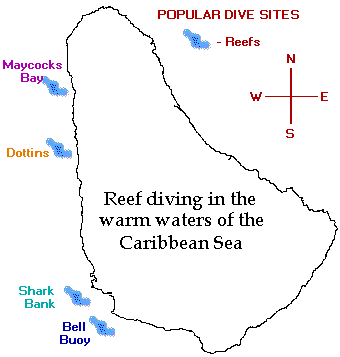 Bell Buoy - a dome-shaped reef varying from 20 - 60ft, it is popular for its brown coral forests, sloping corals and schools of fish. The diver will observe several coral environments, making Bell Buoy an educational and exhilarating experience.

Shark Bank - a coral reef reaching depths of 135-145ft. Divers will particularly enjoy seeing sea turtles and parrotfish. Don't let the name worry you!!

Maycocks Bay - a unique site with several large coral reefs divided by stretches of white sand! Rays and barracudas frequent these waters.

Dottins - a popular reef which is home to corals, turtles, barracuda and thousands of tropical fish!