Barbados Turtle Project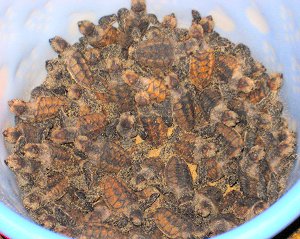 The Barbados Sea Turtle Project (BSTP)
The Barbados Sea Turtle Project (BSTP) was started in 1987 to promote conservation of sea turtles in Barbados. It is a joint activity of the Department of Biological and Chemical Sciences at the University of the West Indies, Cave Hill Campus and the Fisheries Division of the Government of Barbados.
The BSTP relies upon the co-operation of the general public, particularly hotel staff and guests, and other persons living and working near the beach, to monitor nesting and hatching activity during the turtle season (April - December).
If you visit Barbados during the winter you can assist with the release of turtle hatchlings. Check the BSTP Facebook page to be alerted to release dates & times.
Activities undertaken to conserve Barbados' Sea Turtle populations by BSTP personnel include the following:
24 hour response to public reports of hawksbill and leatherback turtle nesting and hatching;
Nightly surveillance of index beaches to closely monitor nesting and hatching activities, and to deter potential poaching attempts of nesting females and their eggs;
Tagging and monitoring of hawksbill and green sea turtles in near shore waters through assistance from dive enthusiasts' dive shop operators and commercial charter boats;
Satellites-tracking of post-nesting hawksbills from Barbados to their foraging grounds elsewhere in the region;
Monitoring of the debilitating disease, (fibropapillomatosis), in green turtles.
Project personnel are also actively involved in conducting extensive public education programmes on sea turtles and promoting increased awareness about sea turtle conservation in Barbados.