Barbados Coffee Shops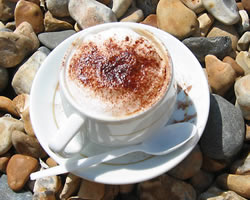 There's nothing quite like relaxing with a rich cup of coffee, whether it's a hot expresso or cool frappuccino!
While vacationing in Barbados get your coffee fix at the many coffee shops around the island. Unique venues include the Sanctuary Cafe featuring cabanas with wonderful views of the mangroves, and the Coffee Bean at the Peronne Village with its traditional chattel house style shops.
There are no Starbucks Coffee stores in Barbados.
Traditionally, Barbadians are tea drinkers (a nod to our British past) however coffee is becoming increasingly popular. Many local coffee shops also serve a wide selection of hot and iced teas.
Most Barbados coffee shops offer freshly baked pastries, sandwiches, wraps, paninis and salads. Some also serve full lunches such as pasta and pot pies.
Coffee Shops By Map
We've mapped some of the most popular Barbados coffee shops below but there are several more across the island. Be sure to ask your hotel front desk for their recommendations.


Note: This mapping service utilizes third party maps. No guarantee is made as to the accuracy of these maps. Maps shown may be dated and not accurately reflect the current environment.
Caribbean Coffee
Coffee is not grown in Barbados, however our neighbouring Caribbean islands (particularly Jamaica
) produce some excellent blends.