Barbados Thai Restaurants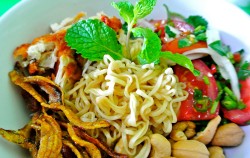 Experience some of the most exotic and unique flavours of Southeast Asia at top Barbados restaurants serving Thai cuisine. At these fine restaurants, one can sample tasty Thai dishes that creatively marry the five taste senses of spicy, sweet, sour, salty and bitter in various combinations to create tantalizing meals for the most discerning palate.
You'll be sure to enjoy favourites like Pad Thai, Thai Noodles With Spicy Peanut Sauce, Thai Coconut Red Curry, Thai Coconut Rice and even some surprises!
Featured Thai Restaurants