Barbados Turtle-Friendly Resorts & Accommodation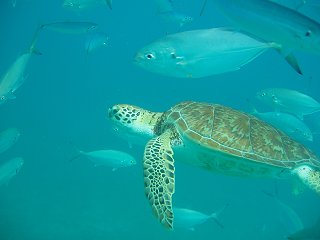 Many Barbados hotels are located on beaches where turtles return to nest and subsequently where hatchlings are born. These hotels accommodate this activity by using muted or coloured lighting that does not confuse the hatchlings and by monitoring the beaches for nests and alerting the Barbados Sea Turtle Project if necessary.
Turtle-Friendly Accommodation
The beach at the Lone Star restaurant is a favourite spot for swimming with sea turtles. Lunch at the Lone Star is a truly romantic way to enjoy a day at the seaside with special company. On weekends, get there about 11am and depending on your mood, you can swim before or after a delicious brunch is served. You can dine on the beach or on the deck. Besides the turtles, the food and ambiance are excellent.