Church Village Green
As you stroll through the capital city Bridgetown be sure to stop by Church Village Green at the eastern end of the city. Here you will find a small park that is an oasis in the bustling city.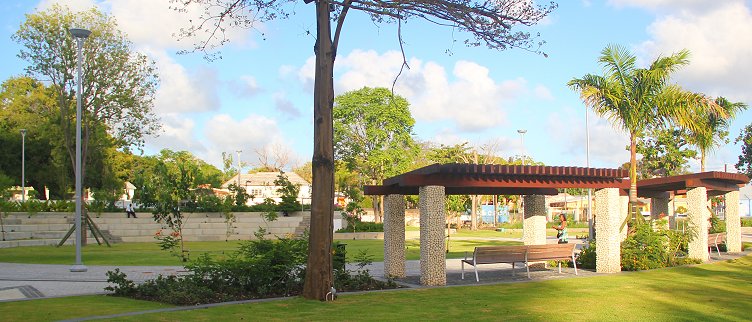 Church Village Green features an outdoor amphitheatre, fish ponds and historic features. Among the stone walkways are replicas of historic coins.. look closely and you'll see the spelling of the island on some coins is Barbadoes rather than Barbados. Another interesting feature is the mounted doors, taken from traditional chattel houses that once stood in this city village.


The park is powered by solar energy, another example of the country adopting green energy.
Just east of this park is the larger Queen's Park. To the west is the historic Masonic Lodge building dating back to 1870 (now the Exchange Museum) and St.Michael's Cathedral, a coral stone church constructed a simple classical style.