Queen's Park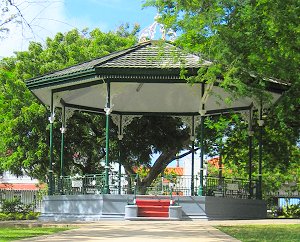 Queen's Park is located in the capital city of Bridgetown. The main house in Queen's Park, constructed in 1783, was originally King's House and was the residence of the Commanding Officer of the British Troops in the West Indies.
Today the area is a designated park and it is lovely to stop by if you are visiting Bridgetown.
Be sure to look out for one of the largest trees in Barbados, a baobab tree that is over a thousand years old and approximately 61 1/2 feet (18 m) in circumference! Other park features include a fountain and bandstand.
Art exhibitions are held throughout the year at the Queens Park Art Gallery.
Also located at Queen's Park is the Barbados Solar House. This 2-bedroom, 1-bath fully functional house is independent of the electricity grid with its main energy source being solar energy. The house shows how it is feasible to use renewable energy, in this case solar energy which Barbados has in abundance! It is fully powered by photovoltaic (PV) panel arrays which convert sunlight directly into electricity. The PV system has a battery backup which powers the home at night and on overcast days.


It is a tradition in Barbados to stroll through Queens Park on Christmas morning wearing one's finest clothes, so if you are in Barbados at Christmas stop by for this local fashion show!

Another popular event in the Park is the annual Agrofest exhibition, which showcases local argiculture and craft.
The park is now run by the National Conservation Commission and includes washroom facilities and a play park.