Baobab Trees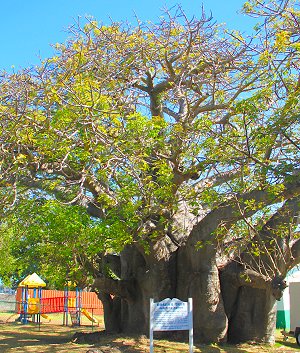 Two magnificent baobab trees (Adansonia digitata) with possibly the widest tree-trunks to be found in the Caribbean grow in Barbados!
The largest can be seen in our Queen's Park in Bridgetown. To give an example of the size of this tree of great distinction, it takes 15 adults joining with outstretched arms to cover its circumference.

This tree is estimated as being over one thousand years old! It is thought that a seed floated from Ginea, West Africa across the Atlantic Ocean to the shores of Barbados and eventually grew into this magnificent tree.
The other grand specimen can be found in Warrens in the parish of St.Michael. There is small park with colourful benches tiled with pottery, surrounding the tree. The Boabab tree at Warrens is over 300 years old.

These two Baobab trees hold a well deserved place in the Barbados.org's "Seven Wonders of Barbados"! Be sure to visit these magnificent trees on your Caribbean vacation to Barbados.
The Boabab tree at Warrens