Barbados Crops
Crops
Vegetables grown in Barbados include tomatoes, cucumbers, pumpkin, cabbage, carrots, lettuce, beets, okras, peppers and beans.
Barbados crops also include root crops (we call them "ground provisions") such as yams, sweet potatoes, eddoes and cassava.

Barbados grows an array of tropical fruits including banana, mango, golden apple, carambola (5-finger), grapefruit and guava.
You can purchase these crops in the supermarket, at vegetable markets and farmers markets and from roadside vendors.
Livestock and Dairy
Barbados has active livestock and dairy industries, producing pork, beef, chicken, turkey, lamb, veal, milk and eggs.
Try our local "Barbados Black Belly Sheep" lamb which makes a delicious stew. It is high in protein and low in fat and cholesterol.
Agrofest
Agrofest is an annual festival showcasing the local agricultural sector. It is a wonderful opportunity to meet local farmers, view livestock, and purchase produce, herbs and plants. Crafts are also on display & available for sale.

Sugar and Cotton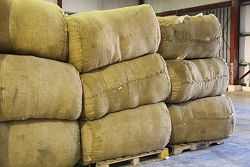 Barbados was once one of the world's top producers of sugar. Today the island produces much less volume, but still an excellent quality sugar. Sugar cane fields are still dotted across the island.
Barbados also grows West Indian Sea Island Cotton, the highest grade cotton in the world. In fact this cotton is 5 times more expensive than the next best grade cotton. Barbados' climate is the perfect combination of sunshine, rain, and humidity for growing this precious resource.