"Grapefruit Tree" (Citrus Paradise)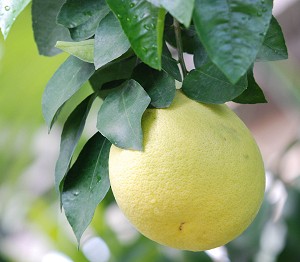 There is an old Barbadian legend telling us that the "Grapefruit" was first developed in Barbados, in the beautiful Welchman Hall Gully and was first recorded in the eighteenth century. Its parents were Shaddock and Sweet Orange, immigrants from across the Asian Sea. A natural cross-pollination was produced between Shaddock and Sweet Orange.
As a result, the "Forbidden Fruit" (as it was named many moons ago) was born for the first time! The name was changed to "Grapefruit" because it grows in large "grape-like clusters". This original Barbadian fruit has now become a world wide favourite.
Barbados.org is proud to have the "grapefruit" as one of the "Seven Wonders of Barbados"!
It is delicious when cut in half, segmented and sprinkled with Angostura Bitters,(made in a neighbouring island, Trinidad).
Margaret P. M Bourne, 1996