St. Lawrence Gap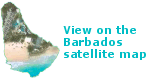 St.Lawrence Gap, a 1.3 km stretch of road in the parish of Christ Church, is famous for it's fine restaurants, diverse accommodation, lively nightlife and good shopping.
'The Gap', as it is commonly known, is a place where various cultures meet and merge ... it is an experience that should not be missed!

St. Lawrence Gap Nightlife
Entertainment in Barbados starts in St.Lawrence Gap! A stroll through The Gap reveals a number of nightclubs, catering to all musical tastes.
The Cove (formerly Reggae Lounge) - this hopping club offers a wide range of music, from reggae and calypso to mellow music and Rhythm and Blues.
While waiting for the music to heat up, nightclubbers can sample the local fare of food vendors that assemble in the Gap!
Here's a sample of some of the live entertainment in The Gap!