Lord Nelson Statue, Barbados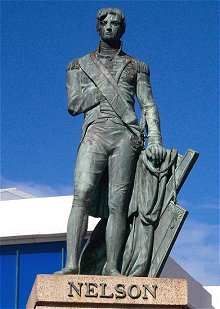 At the top of Broad Street in the capital city of Bridgetown stands this bronze statue of Admiral Lord Nelson.
The statue was erected on 22 March 1813 in the area known as Trafalgar Square, opposite Parliament Buildings. The statue predates Nelson Column in Trafalgar Square in London by nearly 30 years. (Barbados' Trafalgar Square was officially renamed National Heroes Square in April 1999.)
This is a great place to take pictures with either the historic Parliament Buildings or picturesque Careenage as a back-drop. It should also be a stop if you are taking a walking tour of Bridgetown. This statue shares the square with the Dolphin Fountain.
Nelson visited Barbados in 1805 and was considered a hero by locals of the day for his battles against the French who controlled some of the other islands in the Caribbean.
Indeed the French and British forces were often battling for ownership of the islands with several islands changing hands frequently. Barbados on the other hand remained under British rule until independence in 1966.
There is another wonderful statue of Lord Nelson in the enthralling Hunte's Gardens.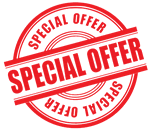 See this statue on a guided walking tour of Bridgetown.
Click here for pricing & bookings
Save time & money:
You won't find it cheaper online or anywhere else.
Don't be disappointed:
Book ahead to guarantee you don't miss out on the best tours & activities.