About Barbados: Barbados Cenotaph
Barbados cenotaph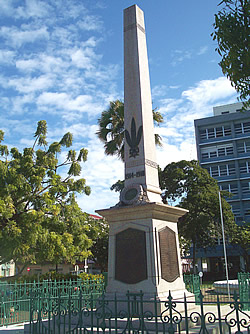 The monument was originally constructed in 1925 to commemorate those who died during World War I.
The names of Barbadians who died during World War II were subsequently inscribed.
Each year on Remembrance Day a solemn service is held around the monument to remember the sacrifices of those who served at war, as happens in several other Commonwealth countries.
The Cenotaph is an obelisk - a tall, narrow four sided monument - however it does not have a pyramid-like shape at the top which is common to other famous obelisks located in Egypt, Rome and Washington DC.