About Barbados: Barbados Dolphin Fountain
Barbados Dolphin Fountain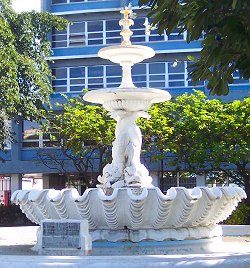 This Dolphin Fountain is located in the capital city of Bridgetown at the eastern end of Broad Street.
This fountain, which was opened in 1865, commemorates the introduction of piped water to Bridgetown in March 1861. The impressive carvings that constitute the fountain include three water-spewing dolphins.
The dolphin fountain shares the the square with the statue of Lord Horatio Nelson, erected in 1813 in honour of the British naval hero.
You should include the dolphin fountain if you are taking a walking tour of Bridgetown.
(Please note that the fountain is often not active.)