Ginger Bay
Just to the east of the popular Crane Beach is beautiful Ginger Bay. Ginger Bay is much less crowded than Crane Beach and is the perfect spot for a picnic, sunbathing and beach walks.
Here the waves of the Atlantic Ocean roll onto the shore, creating a white foamy surf. Like Crane Beach, the soft sand at Ginger Bay has a delightful pinkish hue, adding to the romantic atmosphere of this secluded bay.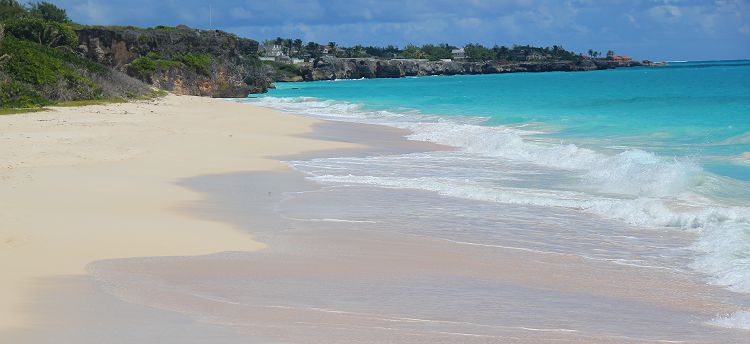 While the turquoise waters are very inviting, remember that in addition to the large waves there are strong currents and undertow in the area. There is no lifeguard on duty at Ginger Bay. Swimming is not recommended here. If you are a confident swimmer then this is a good spot for boogie boarding.
This tropical bay is cut out of the rugged coastline and enclosed by remarkable cliffs. There are small caves in the cliff face that are interesting to explore. The lovely Ginger Bay Hotel once stood on top the cliffs and had a staircase leading down from the hotel into a cave and onto the beach.
In keeping with the remote nature of this place, there are no restrooms, showers or dining facilities at Ginger Bay.
What's Nearby
Other Barbados attractions and points of interest within 1 mile of Ginger Bay

- accommodation and activities with rates, photos and direct online quotes and bookings.