Barbados Crafts
In recent years, many talented and enterprising young craftspeople have emerged in Barbados, opening shops and galleries to display their work.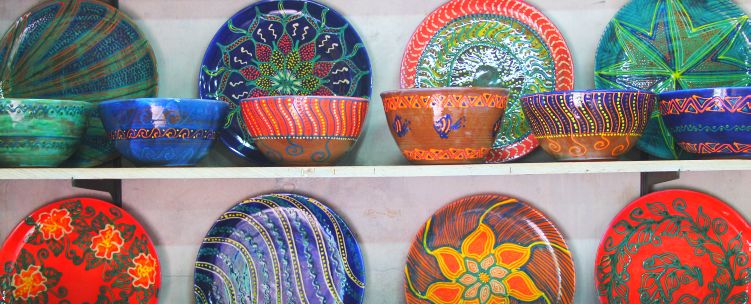 These crafts are the perfect souvenir of your trip to Barbados and make wonderful gifts for friends and relatives back home.
PELICAN VILLAGE
An attractive shopping village featuring pottery, straw works, batik, rum cakes, metal works, paintings, and much more. Located on the outskirts of the capital city, Bridgetown.
MEDFORD CRAFT WORLD
Visit Medford Mahogany Craft World to see raw wood transformed by local artists into magnificent works of art and functional pieces.
CHALKY MT. POTTERIES
Located on the East Coast of Barbados, where Barbadian potters have practiced their skills for hundreds of years.
RED CLAY POTTERY & FAIRFIELD GALLERY
Located at Fairfield Cross Roads in the parish of St.Michael, Red Clay Pottery manufactures a wide selection of ornamentals, dinnerware and terracotta pots, all carefully designed and each one unique!
HAMILTON'S POTTERY
A small pottery set in the Barbados countryside, producing beautiful, high quality decorative and functional pottery.
EARTH AND FIRE
Capturing the unique culture of Barbados through the creation of colourful, hand-painted pottery.
Visit To Earthworks Pottery