Emancipation Statue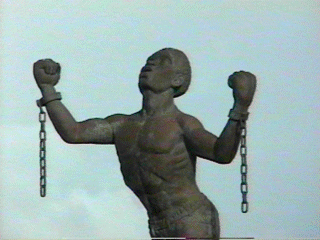 The Emancipation Statue is the work of Barbados' best known sculptor Karl Broodhagen and symbolises the breaking of the chains of slavery at Emancipation.
Slavery, abolished in 1834, was followed by a 4-year apprenticeship period where free men continued to work a 45-hour week without pay in exchange for living in the tiny huts provided by the plantation owners.
Full freedom from slavery was celebrated in 1838 at the end of the apprentice period with over 70,000 Barbadians of African descent taking to the streets to celebrate. Today, Emancipation Day is celebrated as a national holiday on August 1st.
Many Barbadians refer to the statue as Bussa, the name of a slave who helped inspire a revolt against slavery in Barbados in 1816. Bussa was born a free man in west Africa but was captured and transported to Barbados to work as a slave. He is one of Barbados' National Heroes.