"Giant Lobster-Claws" (Heliconia Caribaea)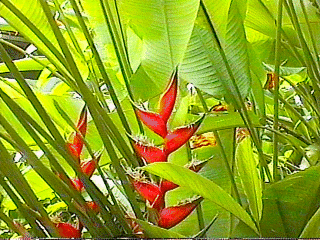 This exotic tropical plant is becoming more and more popular not only in the Caribbean but throughout the world. It is cultivated in some Barbadian plant nurseries especially for export. It is hardy and travels well and after picking lasts for 2-3 weeks.
It is a relative of the Ginger Lily and the Banana Tree and grows best in semi-sunny conditions and is happiest in the rainy season as it loves water!
Healthy specimens of this exotic plant can be seen in the beautifully landscaped gardens of many Barbados hotels.
Horticulture enthusiasts should not miss a visit to Flower Forest Botanical Gardens!
© Margaret P.M. Bourne