Barbados Medical Tourism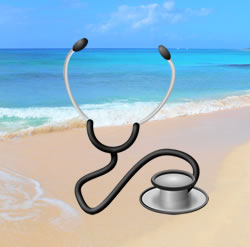 Barbados has long been reputed for it's warm climate and the health benefits associated with relaxation and convalescence.
In fact, Barbados is the only country outside of the USA visited by George Washington when he brought his ailing brother Lawrence to stay in Barbados for a few months in 1791.
Fertility Clinic
Since 2002, Barbados Fertility Centre has been attracting international fertility patients to their state of the art centre of excellence for IVF treatment. Many studies have shown that stress impacts on fertility and to combat stress the clinic treats patients both medically and holistically.
Patients are encouraged to participate in the healthy mind body programme at the their on site spa The Life Wellness Centre. Here patients can enjoy massage, reflexology, reiki, acupuncture, nutritional advice and benefit from sessions with a counselor on the emotion associated with infertility.
Patients enjoy the natural beauty and tranquility of Barbados, while undergoing both the medical procedure of IVF and holistic therapy at the spa, this means patients are at their optimum of relaxation when they undergo fertility treatment. This results in 80% pregnancy rate for women under 35, which compare to 42% in the USA and 22% in the UK.
Hyperbaric chamber
There is one hyperbaric chamber in Barbados, located at the Barbados Defense Force Headquarters. This is used mainly to treat divers who have experienced decompression sickness. This facility has been operating since 1985 and is also used by neighbouring Caribbean islands. The director of the facility is Dr. Michael Brown.
Dialysis
Dialysis treatments are available at SILS Dialysis and The Dialysis Clinic, both private facilities. You should contact the clinic in advance of your arrival so that they fully understand your needs and can prepare for your treatment.