Lemon Arbour Barbados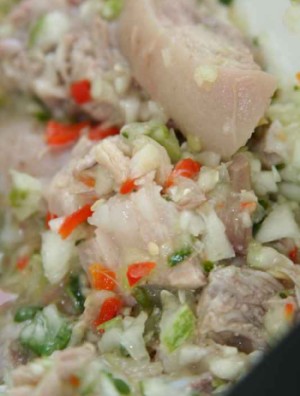 Lemon Arbour (officially called The Village Bar) is one of those popular local hang-out spots that you simply must try during your Barbados vacation!
Open throughout the week, but especially popular on Saturdays, Lemon Arbour serves some of the very best local cuisine from its lovely location overlooking the countryside.
Place your order, get your drinks from the bar and head out onto the deck which offers magnificent views of the lush green valley.
Pudding and souse is a traditional Barbados Saturday lunch dish. Pudding is made from sweet potato which is grated and seasoned then steamed, while souse is lime-pickled pork or pig parts. Traditional souse used the feet, ear, tongue, etc of the pig but lean souse, on offer at Lemon Arbour, uses lean pieces of pork instead. Lemon Arbour is well known for its pudding and souse and locals come from across the island just to get some!
Other favourites include the cou-cou with pork stew, barbecue pig tails, pickled sea cat (octopus), baked chicken and macaroni pie.
Get your pudding and souse recipe here »»
Tip: check your map before you set off as it's not the easiest place to find!