Travellers Insights Magazine: Historic Bridgetown and Its Garrison, Barbados
Historic Bridgetown and Its Garrison, a UNESCO World Heritage Site in Barbados, is featured in the online travel magazine Travellers Insights.
Get a FREE digital copy or buy a printed version
Order printed copies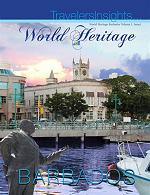 By Ian Clayton in Travelers Insights
24 pages
World Heritage Tourism covers heritage hotels, heritage holidays and heritage travel. We select destinations from the UNESCO World Heritage List that meet TravelersInsights criteria for World Heritage Tourism designation. We FOCUS on tourism destinations that are UNESCO Heritage Sites and are also exciting and rewarding places to visit for an adventure holiday for families, singles and couples. This issue features Barbados.
Tours of the World Heritage Site