Barbados Guesthouses by Facilities
Barbados guesthouses offer safe and affordable accommodation at a low rate. Room amenities are generally quite basic, but comfortable, and you have the advantage of extra facilities such as a kitchen and outdoor areas.

loading
guest houses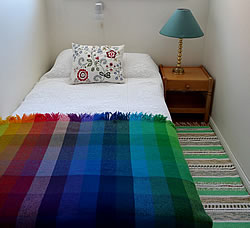 Guest houses typically offer a homely ambiance; nothing ornate but very comfortable accommodation. The rooms are simply furnished with just the essentials for an enjoyable holiday. If you need additional facilities such as a swimming pool or on-site restaurant, consider self-catering lodging or a hotel instead.
Access to a full kitchen is one of the biggest benefits to staying in a guest house. This saves you money on eating out and is convenient if you like to prepare meals to your own taste or have a picky eater in the family.
Many guesthouses are located in residential areas (suburbs) and are within a short walk of the beach. A few are located directly on the beach.
Barbados guest houses are quite small so the owners are able to give guests personalized attention, creating a fantastic holiday experience.