Drax Hall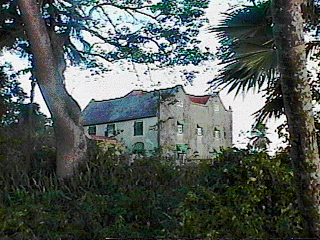 No one knows for sure, but it is generally believed that Drax Hall was built by the brothers William and James Drax in the 1650's. The brothers built Drax Hall as one of the earliest and biggest sugar properties in Barbados. They were a wealthy and well connected family that had a special love for Barbados. There were others like them, for Barbados prospered with sugar and its plantation owners held considerable influence at home and abroad.
It is classic Jacobean architecture, with steep gable roofs, corner finials, casement gable windows and a Jacobean staircase with its carved hall archway of mastic wood.
St. Nicholas Abbey in St. Peter and Drax Hall in St. George, two of the oldest buildings in Barbados, both built in the 1650's, stand as proud examples of the Jacobean tradition. Drax Hall is the oldest surviving Jacobean mansion in the Western Hemisphere. Only three of these mansions exist in the Western World, and it is Barbados' good fortune to have two of these treasures. The only other remaining structure being Bacon's castle in Virginia, U.S.A.
Drax Hall is now a private residence and is not open to the public. However you can tour the beautiful St. Nicholas Abbey.