Christ Church Parish Church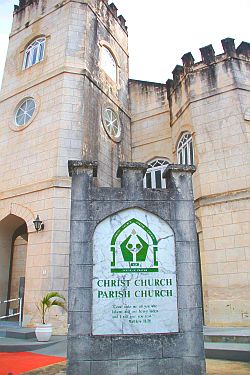 Location: Oistins, Christ Church

Date Built : 1835
Historical Significance
Although the present church was built in 1935, it is the fourth on the site - the previous ones being destroyed by hurricane, fire or flood.
The first church was a wooden structure built in another location near to the coast of Dover, Christ Church around 1629. It was destroyed in 1669 by a flood. The second church which was destroyed by a hurricane in 1870, was constructed in the current location overlooking Oistins. A third church, built after 1786, also suffered the same fate in 1831. Construction of the fourth church began in 1835 with the corner stone being laid by the Bishop of the Diocese. Sadly, whilst preparations were in progress to celebrate the 100th anniversary of that building, a fire would cause its demise once again.
Today, the fifth building stands on that second site, proudly displaying three of the walls retained from the burnt church and its western tower.
The Christ Church Parish Church is best known for the famous Chase Vault, in which coffins mysteriously move around within the sealed vault!
Main Features: Chase Vault (churchyard), memorial ledgers.
Scheduled Services
Sunday
6:00 AM - Worship
7:45 AM - Worship
9:15 AM - Worship
See also: Anglican Church in Barbados