Barbados Forts
During colonial times Barbados was the most heavily fortified island in the Caribbean as the British sought to protect the island from invasion and takeover by rivalling European powers especially the French.
Forts were located along the entire south-western and western coasts of Barbados. Fortification was not necessary on the eastern or northern coasts as the rough seas, towering cliffs, and lack of harbours were a natural deterrent.
If you visit Gun Hill Signal Station be sure to look for the fascinating "Fortifications On The Barbados Coastline - 1728" map which reveals the presence of 23 forts! In 1780 there were 40 forts & guns (cannon) protecting the Barbados coastline.
We also recommend a visit to Charles Fort, located at the Barbados Hilton hotel. You'll enjoy a majestic view of Carlisle Bay and see how the cannon were strategically positioned at this important fort that dates back to the mid 1600's.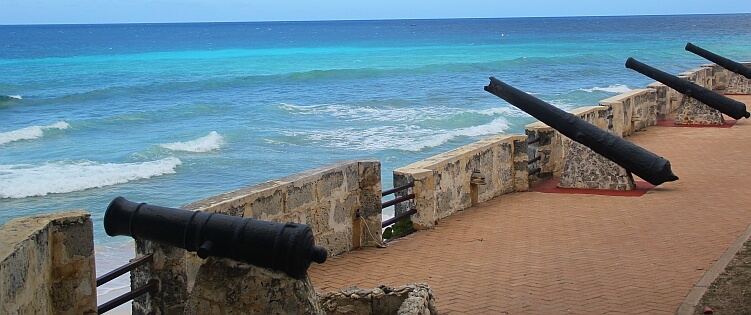 The nearby St.Ann's Fort is the only remaining fort on the island with its observation tower intact. It is now the headquarters of the Barbados Defense Force.
Ruins of the old forts can still be found along the coast including at Maycocks Bay in the north-west.