Barbados: Whale Watching
During the winter months (December to April), humpback whales head to the warm tropical waters of the Caribbean where they live off their layer of blubber until heading back up north.
Whales can be spotted off Barbados, especially on the northern and eastern coasts. Sightings are usually in the early morning. Two favourite spots are at the Animal Flower Cave and The Atlantis Hotel. Unlike several of our Caribbean neighbours, Barbados does not offer whale watching tours.
Between 2011 and 2013, several humpback whales were seen on the west coast of Barbados. Lucky persons cruising on catamarans were fortunate to get up close to these magnificent creatures!
Although you aren't that likely to spot a whale off Barbados you can enjoy swimming with friendly sea turtles!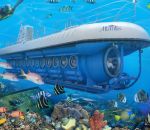 Experience the thrilling sights of underwater Barbados on a real submarine tour!
Save time & money:
You won't find it cheaper online or anywhere else.
Don't be disappointed:
Book ahead to guarantee you don't miss out on the best tours & activities.