Barbados Pelicans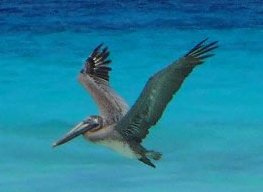 Although the pelican is featured on the national Coat of Arms of Barbados, the bird is rarely seen in or around Barbados.
Up until the 1950's Pelican Island existed as a small island off the west coast of Barbados. The sea between Barbados and Pelican Island was reclaimed and this area is now part of the Bridgetown Deep Water Harbour, where the cruise ships dock. Pelican Island was so named because of the brown pelicans that nested there.
Barbados' affiliation with pelicans continues today with the Pelican Village craft center located on the outskirts of the capital city Bridgetown.
Read more about Barbados birds